Know more about Young Director Course...
YOUNG DIRECTOR - by RYAN TV
One Day Course: (during school hours)
This course will cover the basics of creative short film making using a cell phone. The components are - Scripting, Lighting, Camera Operations, Framing, Editing, Ryan's IAFA Workshop including PSA creation and a demo for the Media Kit.
What else does the student stand to gain:
Certificate: All students will receive a certificate of completion.
Media Kit: A media toolkit inclusive of Gorilla pod (flexible tripod) and clamp, a multi purpose stylus pen and an LED USB Mobile Light, and Mobile Popup holder.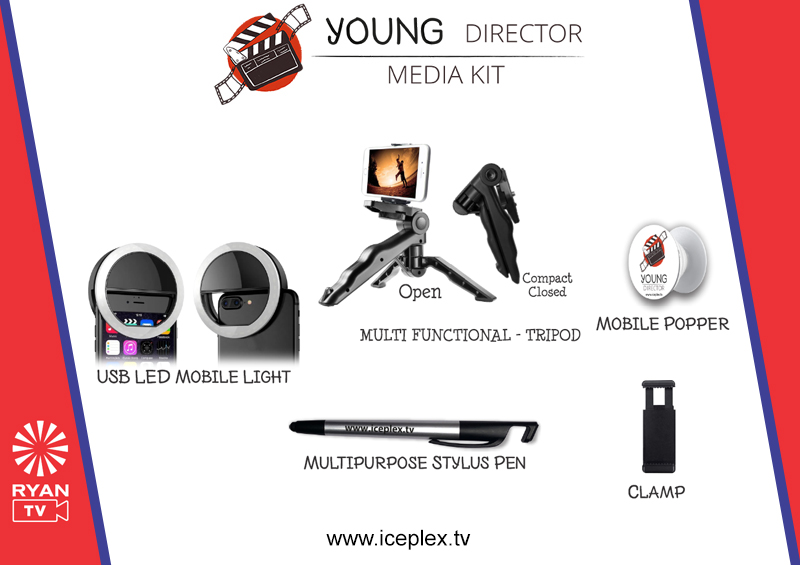 TIMELINE:
Sept/Oct/Nov/Dec (Schools will be informed of the exact date after receiving the registrations)
Grades: VII and above
Maximum 60 students per session. If there are more than 60 students, additional sessions will be conducted.
Registration Process:
Registration data on Drive Sheet: Register yourself by giving your name to your Class teacher, for the YD course.
Fee Confirmation: Fees must be paid in full (no installments). After the full fees have been paid online, your parent must share the "transaction number" with the school for confirmation.
Data entry of Names: Correct spelling is needed for Certificates. Ensure your name is correctly spelled.
Important Instructions to Students
Media Kit
i) The Kit will be sealed. Open the seal when taking the delivery, in the presence of a school representative. A demo will be given during the course, on how to safely assemble and disassemble the given equipment.
ii) If unsure about handling the kit on your own, wait for the demo. This is being done to avoid breakage due to amateur handling.
Letter of Authority and undertaking: The packed and sealed kit can be picked up from school by the student's parent, guardian, relative or any person who has the letter of authority from the parent. At the time of taking delivery of the Kit, the receiver will check the Kit in the presence of the school representative and sign off on the same. No later claims of breakage will be allowed.